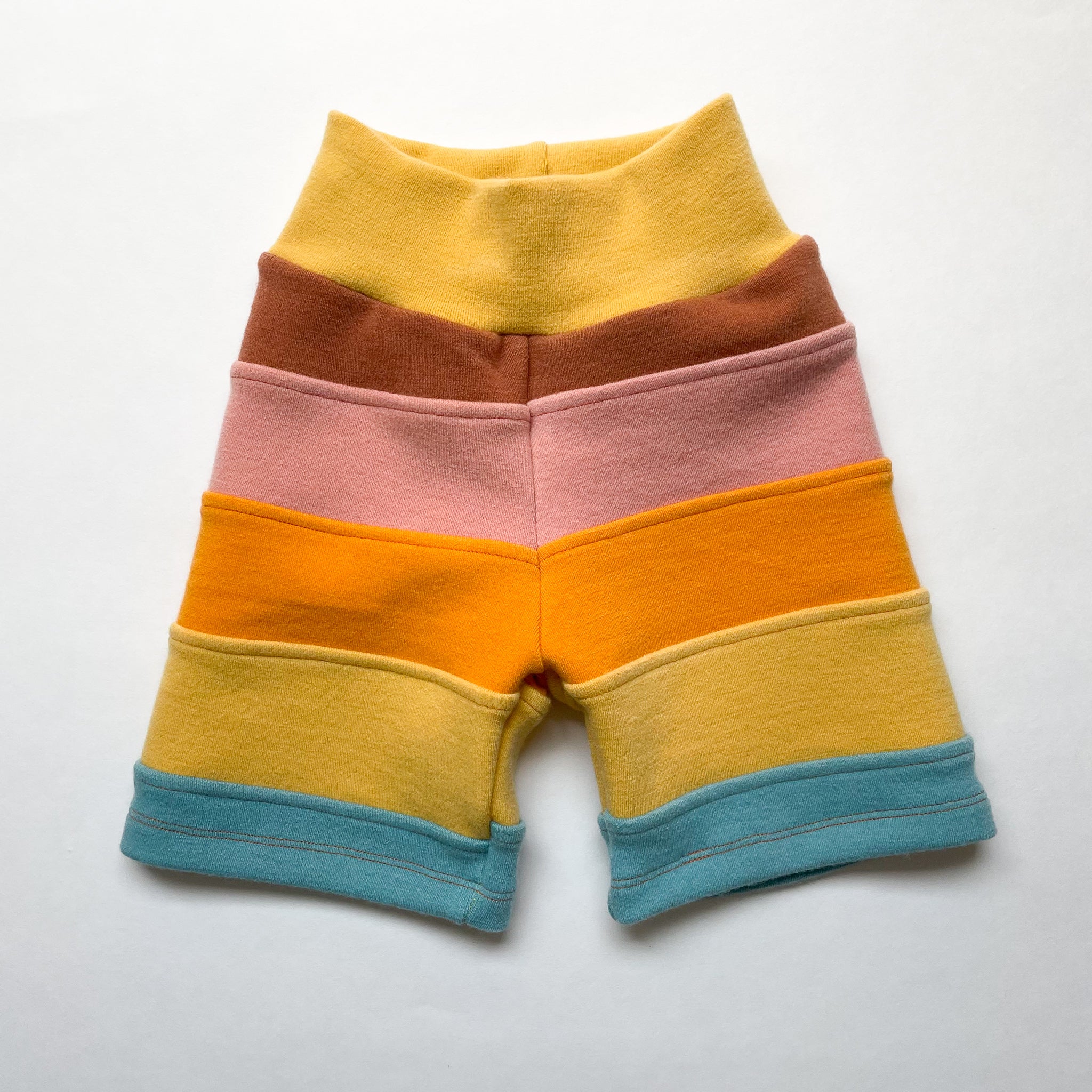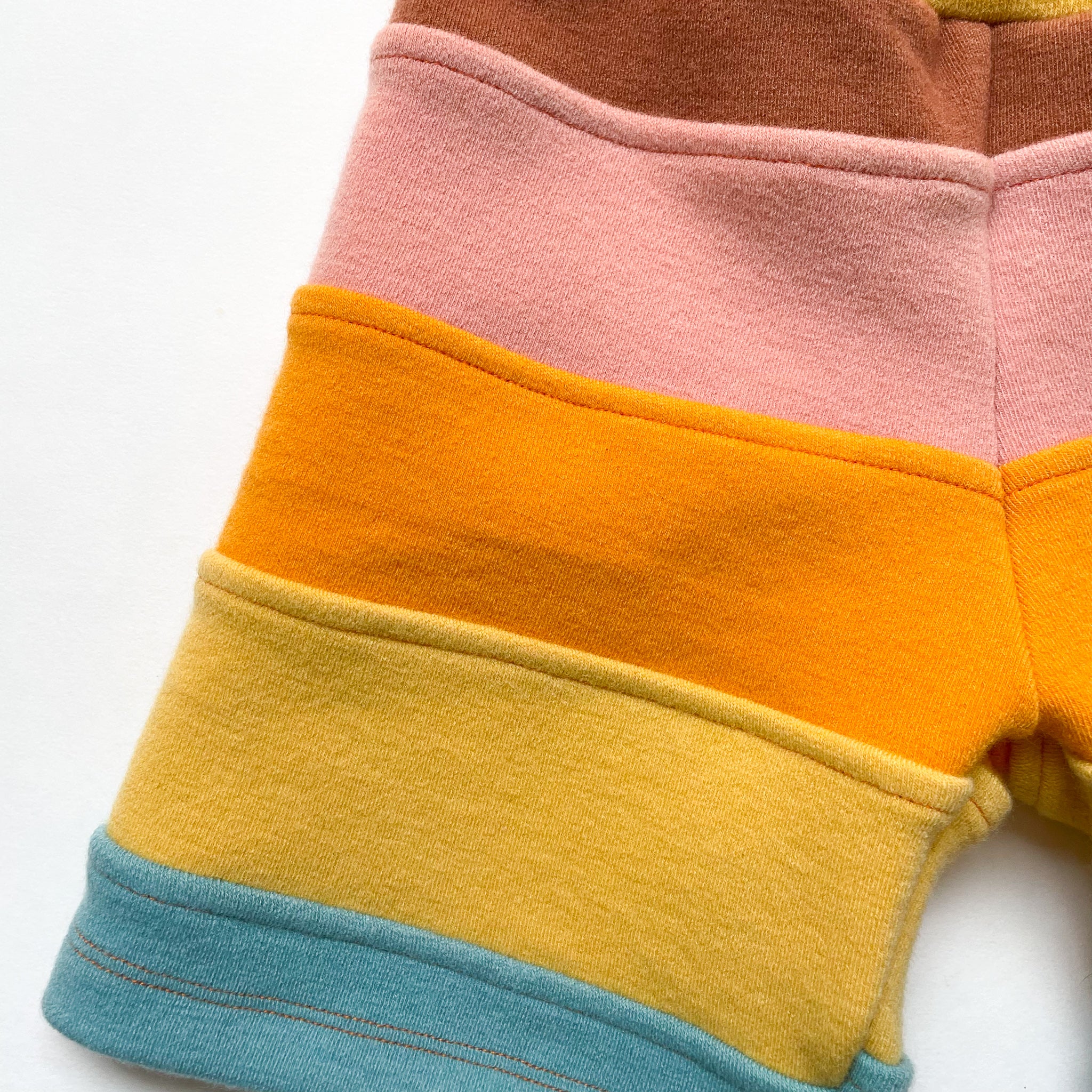 Crazy Striped Wool Shorts, Desert Boho
Sale price

$ 63.00
Regular price
(/)
Made with beautiful 'Desert Boho' colors! 

Please note: This is a made to order product, meaning this product is made especially for you when you order. Please allow 3-4 weeks for your product to be created and shipped. You will receive an email with tracking information once your product ships. 
Wool is breathable yet a perfect insulator, which can help you maintain your internal body temperature even in the coldest of climates.  For our wool products, we use a gorgeous Oeko Tex certified merino wool blend with a little bit of added lycra/spandex to help the wool keep shape over time. This sustainable fiber is durable enough to withstand hard wear & tear while still be super soft against the skin. It can last decades and through multiple children with proper care. So comfortable & sensory friendly, with stretch in all four directions for crawling, hiking and general frolicking. Perfect for crawlers as well. 

Content: 97% Organic Merino Wool, 3% Spandex, Wool Interlock Blend
Pattern: Wool Shorts
Wool Colors: Desert Boho uses rust, peach blush, poppy, honey mustard & jade. (we do not allow custom colors, but you may choose to opt out of the peach blush to make these pants more gender neutral if you prefer, please make note of this at checkout)

Measuring for your woolies: 
Using a soft measuring tape, take the following measurements to get the best fit. All measurements are to be taken with undergarments on, including diapers. 

Waist: wrap the measuring tape around your child's waist right beneath their belly button being careful to take the measurement trimly while not squeezing tightly. 
Hips: wrap the measuring tape around the widest part if your child's hips. 

Rise: This is the trickiest measurement to take. Place the measuring tape directly beneath the belly button aiming vertically, towards the crotch, Go through the crotch and come up the middle of the back stopping at the waist. This will make a sling shape through the crotch. 

Inseam: Place the measuring tape at the top of the inner thigh at crotch level. Do not go above the crotch crease. Carry the tape down the length of the inner leg stopping right below the ankle. 

Size Chart: 
Start by comparing your child's measurements to the size chart. Look for measurements that closely match your child's hips & rise first.  You will want the pants measurement to have slightly larger hips & rise than your child's. You will want the pant waist to be at least 2-3" smaller than your child's. Inseam should meet your child's or be slightly longer. If your child's measurements are much different than our size chart, please choose the pants that will fit closest to the rise & hips and include custom measurements in the Notes Section at checkout. There will be a button to click to add notes. We will contact you with any questions with your customization. Small extra fees may apply. 
| | | | | |
| --- | --- | --- | --- | --- |
| | Waist  | Hips | Rise  | Inseam |
| Baby X-Small -  | 13" | | 15" | 2" |
| Baby Small  | 14" | | 16" | 2.5" |
| Baby Small Long  | 14" | | 18" | 4" |
| Baby Medium  | 15" | | 18" | 3" |
| Baby Medium Long  | 15" | | 20" | 5" |
| Baby Large  | 16" | | 20" | 4" |
| Baby X-Large  | 17" | | 22" | 6" |
| Youth X-Small  | 17" | | 16" | 9" |
| Youth Small  | 18" | | 18" | 11" |
| Youth Medium  | 19" | | 20" | 13" |
| Youth Large  | 21" | | 22" | 15" |
| Youth X-Large  | 23" | | 24" | 17" |

Proper Care: 
Wool is naturally antimicrobial meaning it is somewhat self cleaning, so it is not necessary to wash your wool after every wear unless the wool gets soiled or stained. You may wash every 1-2 months otherwise.

When it does come time to wash your wool, it can be machine washed on a gentle cold/cold cycle. You may use the no heat air fluff on your dryer. But for longevity of wear, we prefer laying the garment flat on a dry towel or hanging to dry. If you choose to use a detergent or wool wash when washing your wool garments, please use one with natural ingredients only. Unscented is best, as the ph of some scents can cause the dye to bleed. 

If you prefer to hand wash, please don't scrub the wool against itself to remove stains as this can cause felting or pilling in the garment. Rather use a soft washcloth or your fingers to scrub the wool lightly. Leave the wool for no longer than 15 minutes in the sink basin and use a towel to roll as much excess moisture as possible. Lay flat on a dry towel or line dry.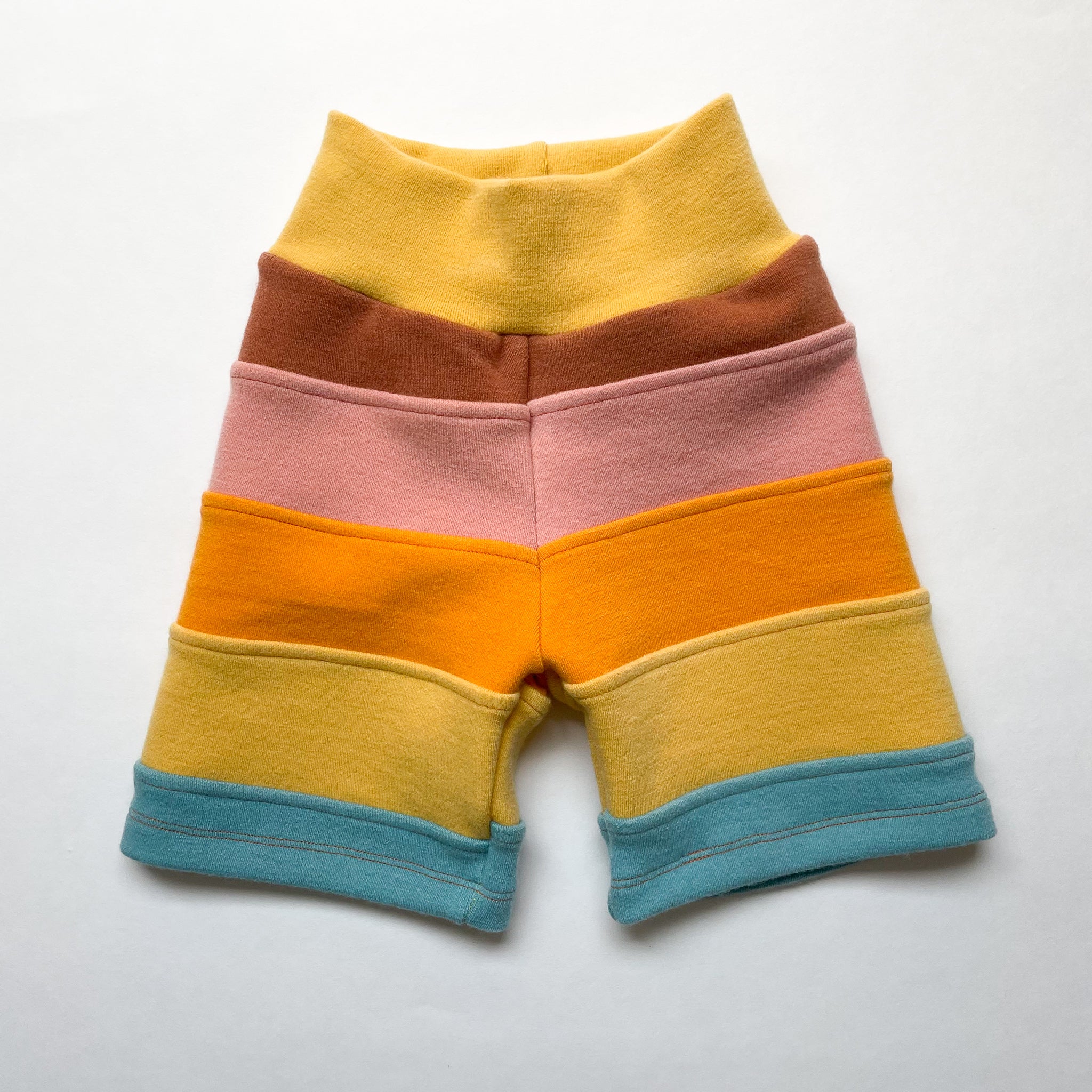 Crazy Striped Wool Shorts, Desert Boho
Sale price

$ 63.00
Regular price
Choose options